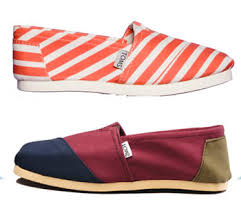 Blake Mycoskie founded TOMS shoes in 2006 after spending time in Argentina and witnessing all the children without shoes.  He has been quoted saying, "I didn't want to start a charity, because I had no background in charities. So I decided to use my entrepreneurial background and create a business model that would give one-for-one, so we could build a business by selling shoes and, at the same time, give them away." 
For each pair of TOMS sold a pair is given to a child in need.  To date, 140,000 pairs have been given away in Argentina, Ethiopia and parts of the Southern US. He plans to give away an additional 300,000 in 2009 alone.
With my college days over, I find myself drawn to these cool sounding internships  that I only wish I could have done.  TOMS has a internship program, Vagabonds, where interns travel around the country hosting screenings and parties and spread the word about TOMS to high schools and colleges.  Blake has been quoted saying, "you don't necessarily need the most experienced people, you just need people who are passionate, smart and hardworking." My kind of peeps!
When asked in an interview how TOMS selects retailers Blake answered, "we really pick them based on how passionate they are about our story because we don't think there is a certain type of person who likes TOMS…so we feel our demographic is very wide so we should sell to a very wide variety of stores, so we pick stores that our willing to tell our story in a very powerful way and get behind it."
Super cool product (I have two pairs). Awesome culture.